Salsa, is now a GRAND CHAMPION and finished her championship with 3 specialty majors including a Specialty BV! On the way to her GRAND CHAMPIONSHIP, she was BV over ranked specials several times. She just won her second specialty BV at the Hoosier DC under breeder judge Pam Peat and also was awarded BOS to BEST of BREED! She is presently the NUMBER 2 Owner-Handled Longhair in the country. She had an amazing Orlando week in huge entries. She went OHBV both days she was shown and it was offered and placed 4th in one OH Hound group. She was BOS once and Select Bitch at the National Championship show. The picture to the left was taken during competition there!
Ginger came out of retirement at 10 1/2 and started her journey in the field trial world. This past November 4th at 11 1/2 she became my first DUAL CHAMPION! She finished her new title with two first places and was BEST OPEN at her last trial!! I am so so proud of this amazing girl!!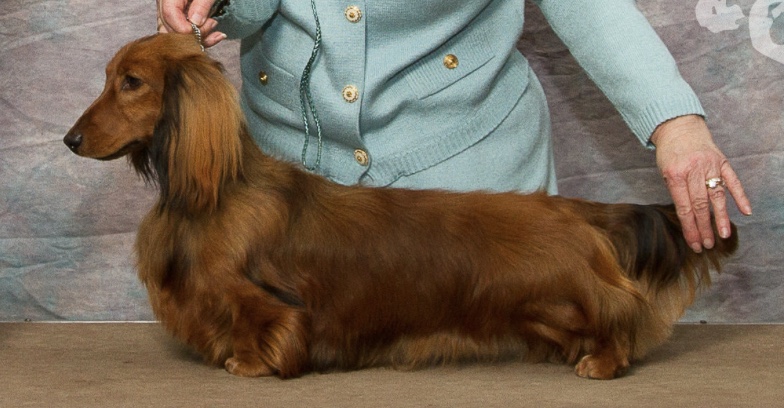 Sarge, Our Gang's Move Front and Center ML, now has 7 points! Two big major wins, one at DALI and the other a supported entry for the DCNJ!
Sadie had amazing fall. She finished her AKC Championship with 3 majors, two at specialties and a third by going BOS over two specials. She started field trialing and immedicately demonstrated her innate abilities. By the end of the fall season of trials in PA only, she had 16.5 points with a 2nd, 3rd, 4th and NBQ. We can't wait until spring to chase some more bunnies!